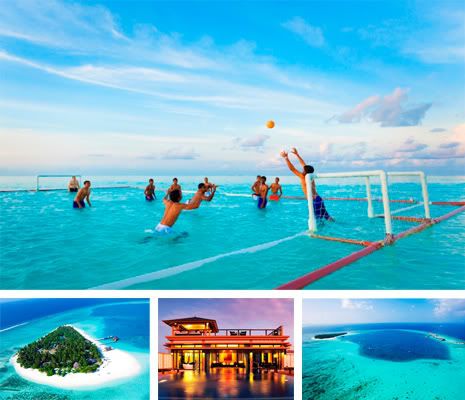 Angsana Velavaru
Location
The island resort is a 40-minute seaplane journey from Male International Airport, and rests on the virtually untouched South Nilandhe Atoll.
Accommodation
The spacious 60,000-square metre island allows for 79 individual villas with direct beach frontage to the sparkling shores of the spectacular Indian Ocean. In July 2009, 32 InOcean Villas (IOV) were launched as the quintessential Maldives experience. The IOVs form the first standalone collection of water villas in the Maldives, located one kilometre from the main island of Velavaru.
Stay In
Each thatched-roof beachfront villa is charmingly decorated with Australian artist Christopher Hogan's Reef Series artwork of abstract marine life – bringing a little of nature into your tranquil space. All of the two-storey IOV offer a sun deck with a hammock over water, a private infinity pool, and a seamless sense of place with the deliberate use of sliding glass doors and windows. The Premier and Sanctuary IOVs also feature an extended deck with a Thai sala pavilion, plus easy access into the shallow lagoon for avid snorkelers.
Dining Highlights
Funa is a lively seafood grill and restaurant, which distils the essence of Maldivian ingredients with a gourmet touch. Kaani is a meeting point of cultural cuisines served throughout the day, starting with a delightful international breakfast buffet, continuing with numerous lunch options, and ending with an abundance of European dishes with an Asian twist for dinner. At Kuredhi bar, guests enjoy beachside views as they enjoy a selection of cocktails and snacks from the international menu. At the IOV, guests have the option of overwater dining at Azzurro, the fine dining Italian restaurant and bar.
Attractions
"Velavaru" translates as 'Turtle Island' in the indigenous language of Dhiveli. The dive sites are strikingly beautiful, making this the most sought-after destination for marine enthusiasts. Young guests get their very own Kids' Club with special activities to keep their inquisitive minds occupied. For the sporting guests, the resort's Marine Centre offers a range of recreational pursuits, from snorkelling, scuba diving to marine biology excursions.
The Marine Lab also focuses on protecting sea turtles, as Angsana Velavaru is a known turtle-nesting site, home to two critically endangered species – the Hawksbill and Green Sea Turtles.
Angsana Spa and Angsana Gallery
The spirited juxtaposition of contemporary chic with exotic Asian splendour forms a relaxing backdrop for Angsana Spa's award-winning blend of treatments based on the use of natural ingredients such as native flowers and fruits. Its therapists are formally trained at Banyan Tree Spa Academy in Phuket, Thailand. Angsana Gallery complements the resort experience as a socially responsible tourism retailer, offering apparel, handicrafts, earth-friendly products, furnishings, jewellery, and Spa aromatherapy collection.
Recent Job Openings
Please Request Job Alerts to get the most recent Jobs by email